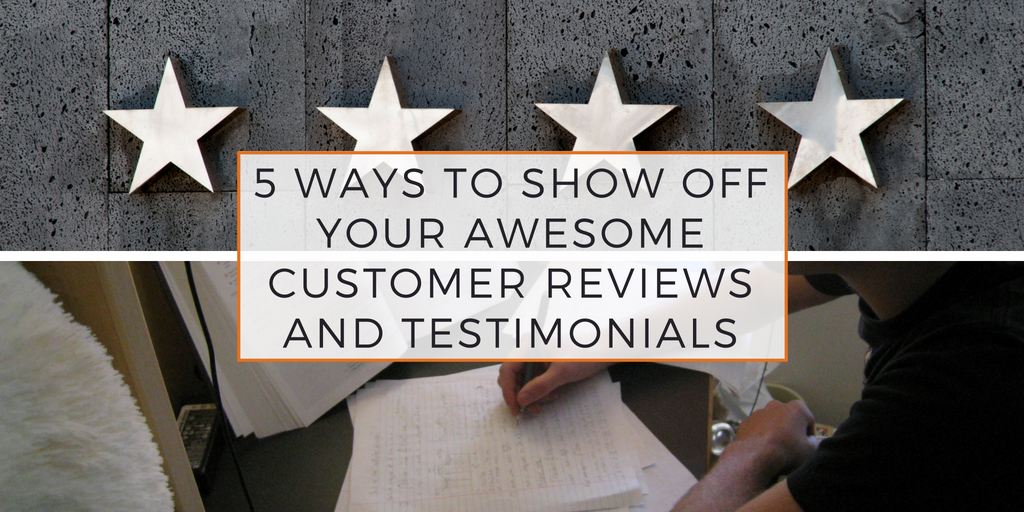 5 Ways to Show Off Your Awesome Customer Reviews and Testimonials
As You are probably aware having reviews for your business, products and services is an essential part of your success. It helps break down the barriers to your may have with they are deciding to use your products or services.
It doesn't matter what type of business you are in a fitness trainer, dentist, electrician, coach, author or local service company, it is critical to help your potential customers to feel they can trust you – reviews help with doing just that.
The five places you should show off your reviews are
Your Website
On Social Media
Your Place of Business
Inside eBooks and Reports
On Printed Marketing Material
1. Your Website
Displaying your customer reviews on your website not only helps draw sales but it shows you value your customers to take the time to add this content to your site. You can have the reviews on a testimonial page, but you should also look at making the viewable on other pages such as your homepage.
2. Social Media
Having your customers add their reviews to your social media accounts and also sharing them can give you significant exposure. With millions of visitors on these sites every day, it gives you a chance to show off your customer's thoughts able you. It allows you to respond to the reviews and shows you want to interact with your customers.
3. Your Place of Business
If you are a brick and mortar business then having your reviews readily available at your business premise makes sense. It shows your potential customers that you are worth their time and your existing customers that they made the right choice and that they are valued. It also can go a long way towards customer retention and referrals.

4. Inside eBooks and Reports
This is a prevalent and logical place to add your testimonials, but it is often forgotten about. Think of it this way you are already giving them helpful information and by adding reviews you are allowing them to see that your business is right for their needs.
5. On Printed Marketing Material
Sometimes a one or two line review on a brochure or other printed material has more impact than your sales copy. It can give that quick and straightforward credibility without you having to justify the words.
Now I know you are thinking, what if I get a terrible review, guess what it happens even to the best of people. Instead of worrying address it and explain what happens and how you will fix it. Don't let it become a fight, address it, solve it and move on.
By adding accurate and valuable reviews and testimonials where your customers and potential customers can see them allows you to show the good and bad of your business and how professional you are. How you engage with your audience and how much you value them. These are all valuable solutions for potential customers to decide if they will do business with you.
Displaying them in the places mentioned above will undoubtedly shine a favourable light on your business, increase conversions, and help you generate more sales.
So ask your customers for reviews, encourage them to engage with you and grow your business through reviews.